Target group women: w-spodnicy.pl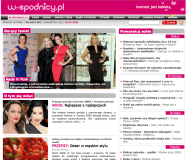 Women are entering the internet. In fact, they already have conquered it. Times have gone where only tech nerds or (mostly male) business manager were using the web. And because the womens segment is the biggest when talking about advertising spendings, a lot of websites aiming for female audience have been launched recently. Axel Springer is participating, too. Besides the acquisition of aufeminin.com and the launch of MyBeautyCase.de there are also some activities in Poland. One is the people website koktajl24.pl, but even more fascinated are the Polish women by w-spodnicy.pl.
Here a product was started with an iterative approach which exceeded the traffic expectations by far. Planned as test only, the website is developing so well that the sales could start meanwhile. This project was implemented by the local Polish team again, I was only involved partly as consultant.