Antje on the net: antjebeyer.de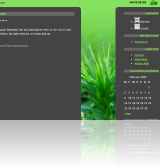 Als ich Mario geholfen hatte, seine Webseite zu modernisieren, sollte eigentlich eine Seite für seine Frau Antje entstehen. Obwohl das Aufsetzen einer Homepage mit WordPress wirklich schnell und einfach geht, schafften wir für Antje an dem Tag ebenfalls nur die grundlegende Installation. Ich freue mich aber jetzt schon, diese Seite weiter auszubauen.

When I helped Mario to relaunch his website, the original job was to set up a homepage for his wife Antje instead. Although the launch of a website is quick and easy with WordPress we only managed to do the basic setup on this day. However, I am looking forward to continue with this site soon.