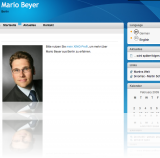 Bereits vor einigen Jahren hatte ich meinem Freund Mario geholfen, seine erste Webseite zu erstellen. Damals ebenfalls in schlechtem HTML und mit blinkenden Bildern. Über die ersten zwei Seiten sind wir nie hinaus gekommen. Wahrscheinlich kein Verlust…
Im Winter 2007 sollte diese Seite endlich modernisiert werden. Natürlich habe ich WordPress empfohlen. Zusammen mit Mario habe ich dort die grundlegende Installation und Einrichtung vorgenommen. Wieder sind die ersten zwei Seiten eingerichtet. Wir werden sehen, ob es diesmal mehr werden.
Already years ago I helped my friend Mario to launch his website. Like mine, it was written in bad HTML with a lot of animated GIF-pictures. More than two pages were never published. Probably not such a loss…
The homepage was finally planned to be relaunched in winter 2007. Of course I recommended WordPress. Together with Mario I did the basic installation and first set up. Again we managed to publish two pages in the first run. Let's see if there will be more this time.