Ein politischer Blog – redakcja.pl|A political blog – redakcja.pl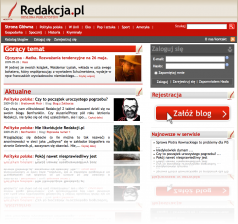 Diese Projekt redakcja.pl war eines der ersten Onlineideen, die unabhängig von einer Printpublikation und deren Marke entstand. Das Konzept und Design wurde von den Polnischen Kollegen entwickelt und mit internen Ressourcen realisiert. Hierbei war ich lediglich beratend tätig, die Umsetzung erfolgte weitgehend lokal. Ein gutes Zeichen für das im Land entstandene Know-How!
This project redakcja.pl was one of the first ideas which was born indepentendly from any print brand. The concept and the design was developed by the Polish colleagues and realized with internal ressources. I was only involved partly in a consulting role, the implementation was done locally. A good sign for the know-how developed within the company!