Herzlich Willkommen!|Welcome!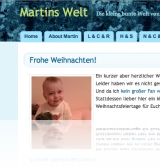 Willkommen auf der neuen Webseite von Martin Scholz aus Berlin. Hier muss noch einiges geschehen, dies ist erstmal "nur" ein Platzhalter. Viel mehr befindet sich schon auf meinem privaten Blog unter www.scholz-familie.de.
Welcome to the new homepage of Martin Scholz from Berlin. There are many things to do, so this is rather a "landmark". Much more content you'll find on my private blog www.scholz-familie.de.