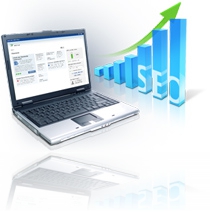 During the last months I have worked with my colleagues at Searchmetrics and a team from eBusiness department of 1&1 Internet AG to provide them a SEO tool, the 1and1 SEO Spotlight, for their clients. The goal of the project: to provide existing and new classic hosting and "My website"-customer an simple yet powerful tool to improve their search engine performance. Because most of them are hard to find on Google – or even not at all!
The big challenge was to understand the target group and walk in their shoes. They are not digging for the next backlink – they have to get the first one. They are not interested in creative extension of the short-head or long-tail keyword set – they have to put any relevant content on the website first. And while assisting them in achieving that, we had to avoid SEO geek stuff or technical language. In opposite what tools Searchmetrics and other vendors offered so far, we built a step-by-step optimization tool instead of a data driven analytics tool.
The customer feedback was great so far. Now we are make the ultimate test: an internal SEO challenge is running, where all team member are requested to build a website with the "My website" feature and the SEO Spotlight of 1and1. One example is the new website of the (imaginary) Camping ground Carlsgarten. Let's see how well they are ranking at Google!